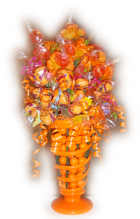 Candy Sundaes in Summer colors!
Not the same old flowers! Celebrate Summer with a Candy Sundae.
Unique and creative arrangements are now in bright spring colors. Give this Candy Sundae to a special someone - the delicious candy and bubble gum is a sure way to say "Thank you!"

$29.99


This week 20% off $23.99

Call to order: (310) 897-2260
or Send an inquiry



Fun Sundae Selection:


Lime Green


LemonHead Yellow


Tangerine Orange


Flower Fushcia


Sky Blue


Butterfly Sundae


Purple Passion


Pink Shake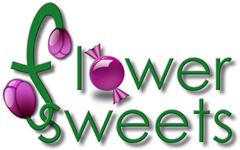 Is a delicious way to send someone special a unique gift that will never wilt, fade or die. Very creative flower stems: hand crafted from varieties of favorite candies and lovingly arranged in colorful vases and containers, with ribbons, bows and plush toys . Call 310.897.2260 for your custom request.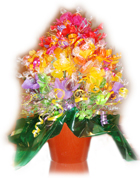 Summer is here!
Lovely and delicious arrangements are now available in cheerful summer colors.


$39.99


This week 20% off $31.99
Call to order: (310) 897-2260
or Send an inquiry





Summer Delight
Delicious tootsie rolls in cheerful summer colors. Your recepient won't believe you parted with this delightful gift.


$44.99


This week 20% off $35.99
Call to order: (310) 897-2260
or Send an inquiry


View all "Guys love candy too" Arrangements


View all Romantic Arrangements


Summer and Labor Day Arrangements

To send the perfect candy bouquet, go to our Contact us page or give us a call at 310-897-2260 and tell us:
1. Who is it for? Is this bouquet for a girl, a boy, a co-worker, or a relative?
2. What colors would you like in your custom candy bouquet?
3. Do they like specific candies and/or chocolates?
4. Is there a need to incorporate any balloons, stuffed animals, gift cards, and what is the specific occasion? The possibilities are endless: Flower Sweets arrangements could include personal memorabilia, family photos or even an engagement ring!



Do you know anyone who doesn't like some type of candy? Anyone who would refuse chocolate? Who wouldn't love to receive a chocolate candy bouquet?
Our Candy Arrangements are overflowing with chocolate treats, favorite candy bars, gourmet assorted hard candies and delicious bubble gum.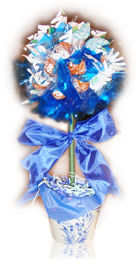 Guys Love Candy Too!
TOPIARY
A beautiful flower pot, with a topiary of delicious lollipops. All Dad's favorite Tootsie Rolls. Make this year's Anniversary as special as your man.

$49.99

August Special 20% off $39.99
Call to order: (310) 897-2260
or Send an inquiry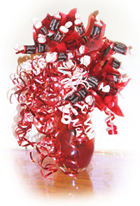 Love ya Tootsie
A beautiful red glass vase is filled with the all-time favorite: stems full of Tootsie Rolls. Whether it's a gift for a child or an adult: you can't go wrong with timeless Tootsie Rolls.


Classy red glass vase


Favorite Tootsie Rolls


Embelished and tastefully decorated


Delivery available


$39.99


August Special 50% off: $19.99
Call to order: (310) 897-2260
or Send an inquiry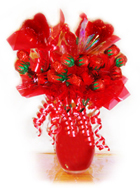 Hearts and Strawberries

features stems of mouth-watering strawberry bonbons filled with a sweet strawberry jam. Two large heart lollipops atop are sure to delight someone special.

Classy red glass vase


Strawberry bonbons


Large heart lollipops


Embellished and tastefully decorated


Delivery available


$39.99


August Special 50% off: $19.99
Call to order: (310) 897-2260
or Send an inquiry