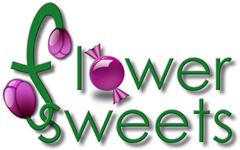 Is a delicious way to send someone special a unique gift that will never wilt, fade or die. Very creative flower stems: hand crafted from varieties of favorite candies and lovingly arranged in colorful vases and containers, with ribbons, bows and plush toys .
And they are also great for allergy sufferers or other situations where flowers may be inappropriate.
All Flower Sweets bouquets and baskets are arranged with fun, colorful accessories for any occasion. You can even request a custom arrangement for a truly one-of-a-kind gift you'll be remembered for. Each colorful arrangement comes in its own designer container filled with delicious candies and gourmet chocolates from around the world. And did we mention they're delicious?
Call 310.897.2260 or fill out online inquiry form for your custom request.
Everyone enjoys candy & flowers!
Who doesn't like to receive candy and flowers?
And if one chooses to send the two together, combined into a candy bouquet, it doesn't just send the message that you are thoughtful, but also innovative and different, and it will make a lasting impression on the recipient.
There is a Bouquet for everyone !
Our Flower Sweets Candy Arrangements come in a wide variety of styles and choices: from chocolate roses to hard candy stems bouquets, lollipops and everything in between. Our bouquets can be customized to fit any occasion and taste.




When a Flower Sweets Bouquet is selected and customized with the contents picked out to fit the occasion and the preferences of the recipient, it tells them that you have really put some thought into your gift.

Do you know anyone who doesn't like some type of candy? Anyone who would refuse chocolate? Who wouldn't love to receive a chocolate candy bouquet? Our Candy Arrangements are overflowing with chocolate treats, favorite candy bars, gourmet assorted hard candies and delicious bubble gum.
To send the perfect candy bouquet, go to our Contact us page or give us a call at
310-897-2260 and tell us:
1. Who is it for? Is this bouquet for a girl, a boy, a co-worker, or a relative?
2. What colors would you like in your custom candy bouquet?
3. Do they like specific candies and/or chocolates?
4. Is there a need to incorporate any balloons, stuffed animals, gift cards, and what is the specific occasion? The possibilities are endless: Flower Sweets arrangements could include personal memorabilia, family photos or even an engagement ring!
How many times have you wished you could find something different, some unique corporate gift idea for that special occasion, or for the holiday season? Candy bouquets are the perfect solution for your corporate gift. How many bottles of alcohol or engraved pens, or plastic desk gadgets are those on your corporate gift list going to be getting this year? Give the corporate gift that will leave the recipient awe struck, and feeling appreciated for the uniqueness of the gift.

Flower Sweets Candy Baskets are the perfect, thoughtful, most unique gift you can send or customize for any occasion! Visit our Products page for some ideas.

Don't see the answer for your custom-made Candy Bouquet, Gift Basket or Candy Arrangement? - Fill out an online request form, or give us a call at (310) 897-2260.


Do you take custom orders?
We love custom orders Let us know your occasion, even favorite color and candy, and we will make a unique Candy Flower Arrangement just for you.


Do you deliver your arrangements?
Yes, depending on your area, for $5.00 gas surcharge. Let us know where you live or where it needs to be delivered, and we will tell you whether there is an extra charge. Generally, the Los Angeles area delivery does not incure an extra surcharge. Delivery on volume orders is always free wirhin L.A. Other Southern California locations will incur an extra delivery surcharge.


Do you ship your arrangements?
Of course. Orders can be shipped anywhere in the United States (no international orders please), for a flat shipping/handling fee of $20.00 per arrangement/basket. Note: Because shipping chocolate candy longer than overnight is not recommended, in the warmer months, we try to substitute chocolate with other candy that will not melt. Otherwise, shipping will incur extra ice and insulation surcharges.


Do you have a catalog?
Yes, online. Because so many of our orders are custom, we have an online catalog here. Keeping in mind that every arrangement could be done in a different color, occasion, container and flavor, including sugar-free and kosher - we don't print a paper catalog.


How long will a Flower Sweets Candy Bouquet or Gift Basket last?
Well, that depends on how fast the recipient consumes it. But seriously, that depends on the candy used for the arrangement. Hard candy, if kept in the correct temperatures, will last for years. Depending on the type of chocolate, it will last anywhere from 3 months to a year.


Can I send a Candy Bouquet to someone in the hospital?
Yes, hospitals love our Candy Arrangements, and many allow them into intensive care units where flowers cannot go.


I don't really know what I want. I have never seen a candy bouquet.
That's easy, give us a call. Tell us the occasion, how much you wish to spend and we will walk you through the process of choosing the perfect Flower Sweets Candy Arrangement or a Gift Basket. That's all there is to it!